Unleashing the Power of AI on Your Canvas
We are thrilled to announce an exhilarating update to our Designer Studio – the integration of AI-powered writing capabilities! This groundbreaking feature is set to redefine the way you interact with content creation, blending the art of design with the finesse of automated writing. Although previously accessible, our old AI model was far inferior to our newest OPENAI powered chat. The new chat allows for generations up to 1000 tokens long. Heavily enhancing your ability to leverage the tool for your mail peice.
Directly Enhance Text on Your Canvas
Imagine selecting a portion of text on your canvas and, with just a click, transforming it into a captivating story, an eloquent letter, a heartfelt greeting, or an irresistible sales pitch. Our latest feature makes this a reality. You can now prompt our website to generate rich, context-aware content based on your specific needs, all within the familiar interface of our Designer Studio.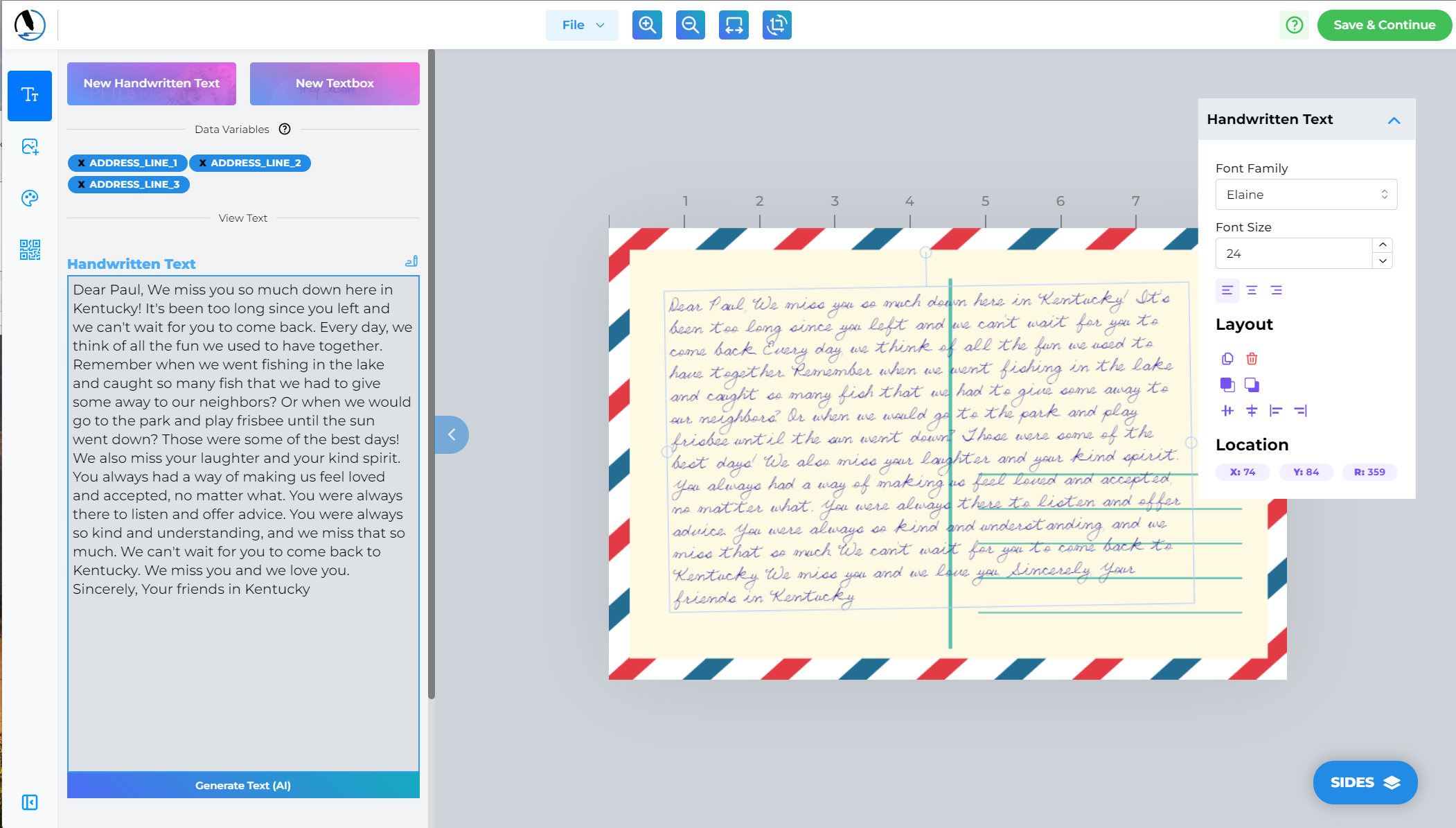 A Spectrum of Creative Possibilities
Our AI is not just a tool; it's your creative partner. It understands the nuances of language and the subtleties of different writing styles. Whether you're crafting a narrative for your brand, personalizing a birthday card, or drafting a compelling business proposal, our AI adapts to your unique voice and objective.
Storytelling
Turn a simple idea into an enchanting story. Whether it's for a marketing campaign or a personal project, our AI can weave tales that engage and captivate your audience.
Personalized Letters and Greetings
Create heartfelt letters and greetings with a personal touch. The AI understands emotions and themes, helping you express your feelings in the most impactful way.
Sales Pitches
Elevate your sales pitches to new heights. The AI analyzes your product or service and crafts persuasive and compelling pitches that resonate with your target audience.
User-Friendly and Intuitive
Our focus has always been on user experience. This new feature is designed to be intuitive and seamless. Simply select the text, choose your desired enhancement, and let the AI work its magic. The process is straightforward, making it accessible for everyone, regardless of technical expertise.
Empowering Creativity and Efficiency
This addition to our Designer Studio is more than just a feature; it's a commitment to empowering your creativity and efficiency. We believe in the synergy of human imagination and AI intelligence. Our goal is to provide you with tools that not only enhance your work but also inspire you to explore new creative horizons.
Your Canvas, Your Story
Every piece of content you create tells a story about you or your brand. With our AI-powered writing tool, you have the power to tell that story with more depth, creativity, and personalization than ever before. Your canvas is not just a design space; it's a narrative playground.
Join the Revolution
We invite you to experience this revolutionary feature in our Designer Studio. Unleash the full potential of your creativity, streamline your workflow, and create content that stands out. Our AI is ready to assist you in crafting narratives that resonate, persuade, and inspire.